APROPOS THE HAPPINESS SWEET SPOT! #13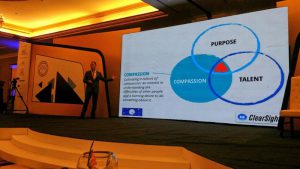 Picture: Lars is talking about cultivating a culture of compassion in South Africa
What is Compassion? What is Compassion in a leadership and organisational context?
We think good leadership has a great deal to do with with being compassionate and cultivation a culture of Compassion.
In The Happiness Sweet Spot Framework we define Compassion as:
"An interest in understanding the difficulties and challenges of other people

and

a burning desire to do something about it."

If you are able and willing to cultivate that as an essential part of your organisational culture, you are unlocking your organisations real potential and building a competitive advantage.
---
From a strategic and organizational perspective The Happiness Sweet Spot aims at creating a real and unique competitive advantage for your organization.
In a social and societal context, The Happiness Sweet Spot also addresses the role and possible obligation (CSR) for organizations in creating well-being and happiness for individuals and nations.
Business Process Re-engineering, Best Practice, Operational Excellence etc., is necessary but not sufficient. This is only a "license to operate."
Your real, unique, competitive advantage is in your Purpose, your culture and how you manage and lead your people: The Happiness Sweet Spot.