APROPOS THE HAPPINESS SWEET SPOT! #14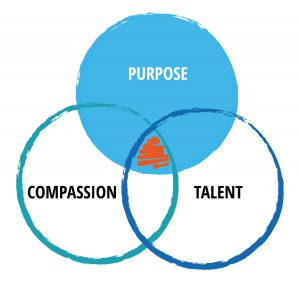 The business case for purpose!
This survey and study by E&Y, published by HBR is a good read and very aligned with our thinking around Organisational Purpose in The Happiness Sweet Spot framework. And the definition of Organisational Purpose is good, we think.
If you have a clear Organisational Purpose, it makes it a lot easier for your current and future employees to find out and evaluate if their personal WHY / Purpose is aligned with your Organisational Purpose.
Businesses face an accelerated pace of change as digitalization, disruptive business, and rapidly changing consumer expectations reshape their world. At the same time, the demands of a new generation of employees for meaning in their work, the declining levels of trust in companies, and a wider debate about the role business can or should play in society are reshaping expectations of organizations.
This survey defined organisational purpose as
"An aspirational reason for being which inspires and provides a call to action for an organisation and its partners and stakeholders and provides benefit to local and global society."
https://hbr.org/sponsored/2015/10/the-business-case-for-purpose
---
From a strategic and organizational perspective The Happiness Sweet Spot aims at creating a real and unique competitive advantage for your organization.
In a social and societal context, The Happiness Sweet Spot also addresses the role and possible obligation (CSR) for organizations in creating well-being and happiness for individuals and nations.
Business Process Re-engineering, Best Practice, Operational Excellence etc., is necessary but not sufficient. This is only a "license to operate."
Your real, unique, competitive advantage is in your Purpose, your culture and how you manage and lead your people: The Happiness Sweet Spot.